Chicken Tortilla Soup Recipe
by Debbie Harrison, Guest Tastemaker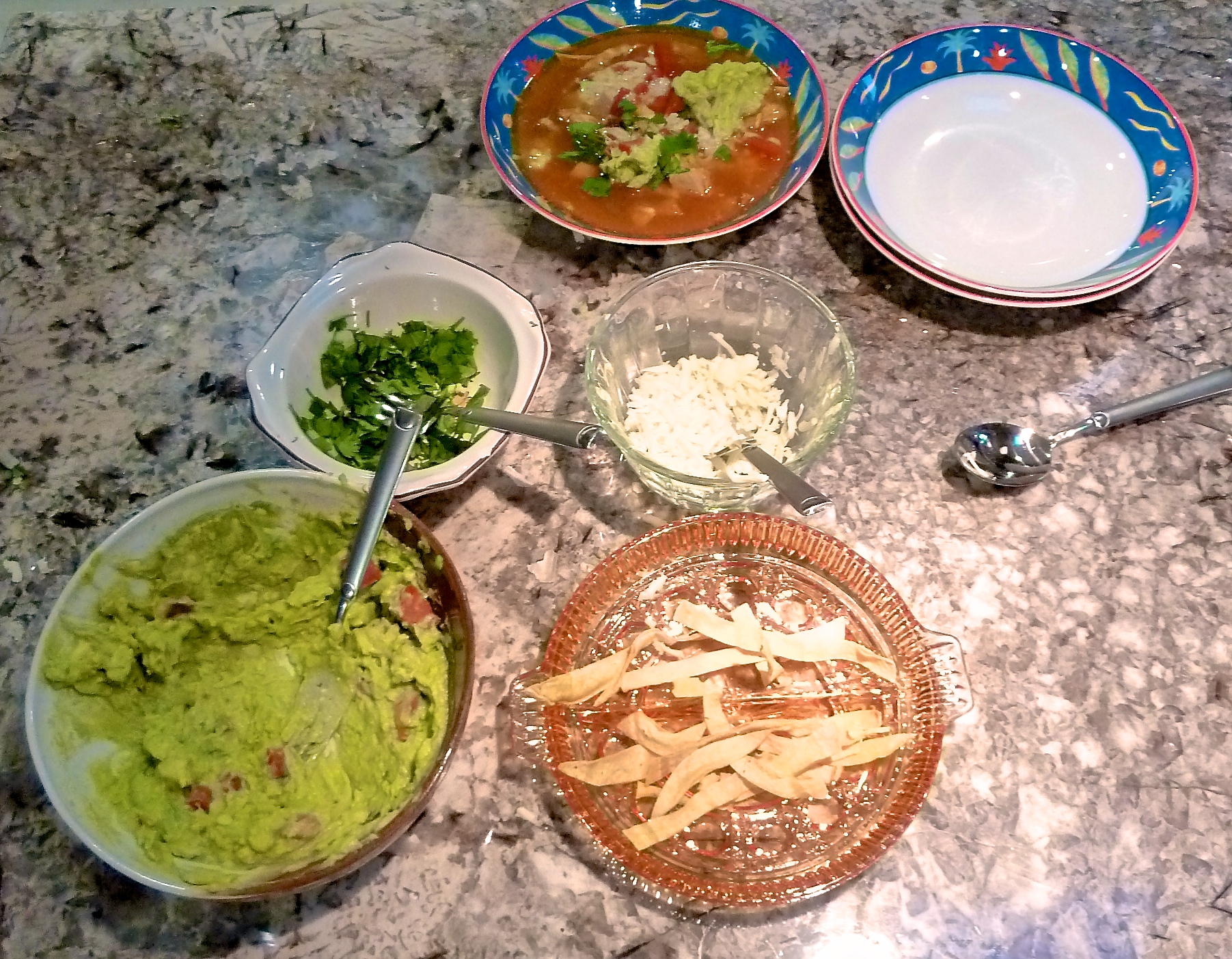 Ingredients
8 small corn tortillas
8 boneless, skinless chicken-breasts, cut into 1.5 inch chunks
1 tsp salt
1/2 tsp black pepper
3 Tbsp vegetable oil
1 onion, chopped
2 cloves garlic, minced
2 jalapeno peppers, seeded and minced
2 tsp ground cumin
1/4 tsp cayenne pepper
4 cans (13.75 oz size) reduced-sodium chicken broth
1 jar (7 oz) mild prepared salsa
4 fresh plum tomatoes, cut into large bites
1 cup frozen corn kernels
1/4 cup shredded Monterey jack cheese
1/4 cup prepared guacamole, optional garnish
1/2 cup chopped fresh cilantro, optional garnish
Instructions
Pre-heat oven to 400°. Cut tortillas into wide strips; place on un-greased baking sheet, bake 10 minutes, until lightly browned and crisp.
Sprinkle chicken with salt and pepper, warm 2 Tbsp of the oil in large pot, cook chicken about 6 minutes, until browned, but not cooked through. Remove to plate.
Cook onion 5 minutes, add garlic, jalapeno peppers, cumin and cayenne, cook 1 minute, stirring.
Add broth and salsa, increase heat to high, bring to a boil.
Reduce heat and simmer 10 minutes, uncovered to blend flavors.
Add chicken and any plate juices to pot. Cover pot, bring back to simmer, continue simmering, partially covered until chicken is cooked thoroughly.
Add corn and tomatoes.
Garnish servings with guacamole, cheese, tortilla strips and cilantro.
Cook's Notes
Makes 2 meals for family of 4.