Finding Monet in Paris
by Lisa Michaux, Tastemaker in Residence - explores the Musée de l'Orangerie in Paris where you can find paintings by the Impressionist master Claude Monet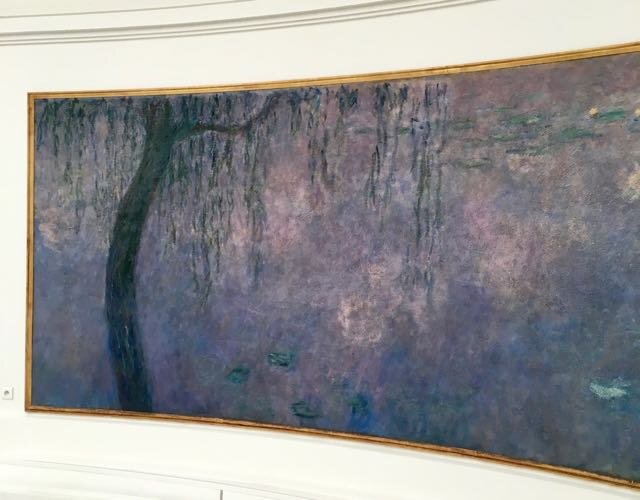 Musée de l'Orangerie, Paris
From his spectacular gardens in Giverny, Claude Monet's labored over his extraordinary Nymphéas (Water Lilies) series for over thirty years, beginning in the 1890s. Although he gifted his extraordinary canvases to the French nation after World War I, he never felt he was completely finished and continued to work on them until he died in 1926. By the time the eight giant panels measuring over 300 linear feet made their way to the galleries of the Musée de l'Orangerie, Monet was not in vogue and the museum opened to little fanfare.
But nearly 100 years later, things have changed! The paintings are currently installed in two specially created oval rooms in this lovely museum at the end of the Tuileries Gardens in Paris. The works envelope the viewer in a world of water, sky and natural wonder. The paintings teeter on the edge of abstraction and while we never quite know where water ends and sky begins, the massive willow trees ground us in Monet's garden at Giverny. Take your time in these galleries. Look closely and allow Monet's mastery of color and atmosphere to fill your soul. And don't worry about taking great photos--the oval walls and wandering tourists make it nearly impossible. Just enjoy Monet's gift to a war weary nation and future art lovers.
Pro tip: If you will be visiting the Musée d'Orsay as well on your visit to Paris, you can buy a combination ticket for both museums and save a few euros you can spend in the gift shop.