was in Sebastopol this spring
by Mark Tronson, Tastemaker in Residence
Let me back up… I started dating a woman last winter, her family owns a wine/beer distributorship and she's purchases the wine for that business; match made in damn heaven for a wine guy like me! One of the problems however is that they represent Gallo wines in our area. I'm not trashing Gallo wines, all wines have a place in the world, Gallo was probably the entry point for many of my customers but when heading to wine country I probably would not seek out a Gallo wine tour. Turns out that's not possible when dating a Gallo girl so off to a Gallo tasting we went.
Our first stop was at Frei Brothers in the Dry Creek Valley of Sonoma, I had bet Cathie $20 it was pronounced Fray not Fry; lost that bet within the first 30 seconds.* The really nice man then gave us a tour of the vineyards; they were impressive. Then a tour of the winery, which was MONSTROUS; more oak barrels than I would have guessed. I even got to taste wine out of a few of them, pretty tasty stuff. We headed back to the tasting room for a catered lunch and private tasting of 10 of their wines. It turns out if you travel with a distributor they roll out the red carpet!
Then we followed him down the road to one of the most beautiful wineries I've been to ever; MacMurray Ranch. The Gallo's bought the property from actor Fred MacMurray of My 3 Sons fame and kept a lot of it intact including the old house that he built and lived in; pretty cool. We then got to taste some of their upper end Pinot's high on a bluff that overlooked the entire region with a beautiful view of the Russian River as well. I truly enjoyed the Pinot and the views.
but... (and you knew there was going to be a but)
What I really enjoy when in wine country is meeting the farmers that grow the grapes then change hats and become wine makers in the fall. The small guys that do it all and I can email them and talk to them and visit them and get firsthand knowledge of what chemicals (or hopefully none) they are putting in the ground. How the frosts in March threatened the crop or how the rains in September delayed harvest. What barrels and from what French cooper they age their wines in and a story of the friends all showing up in February to help label the bottles. That is why I'm in this business; love the small guys passion and hard work and being so hands on from vineyard to bottle.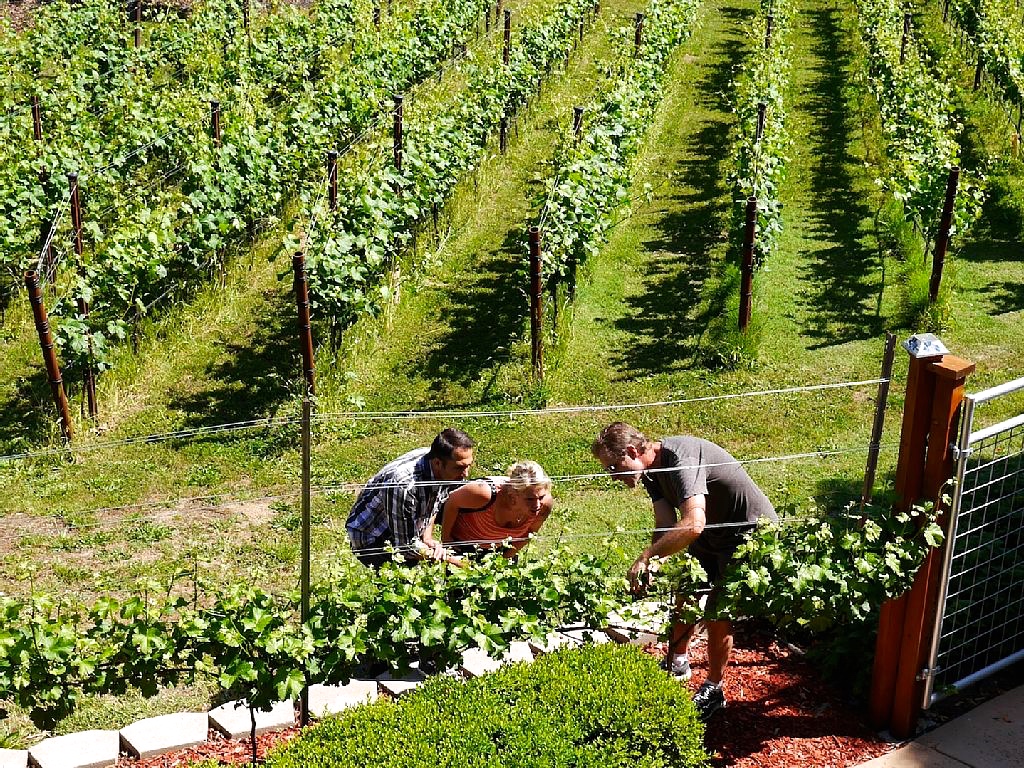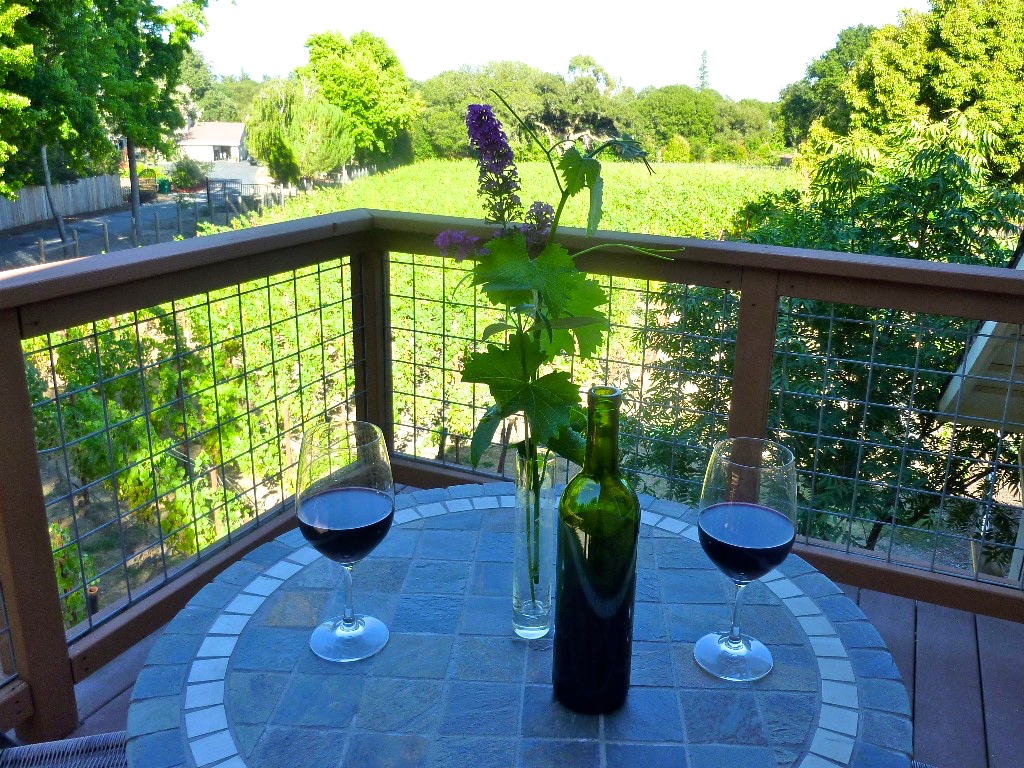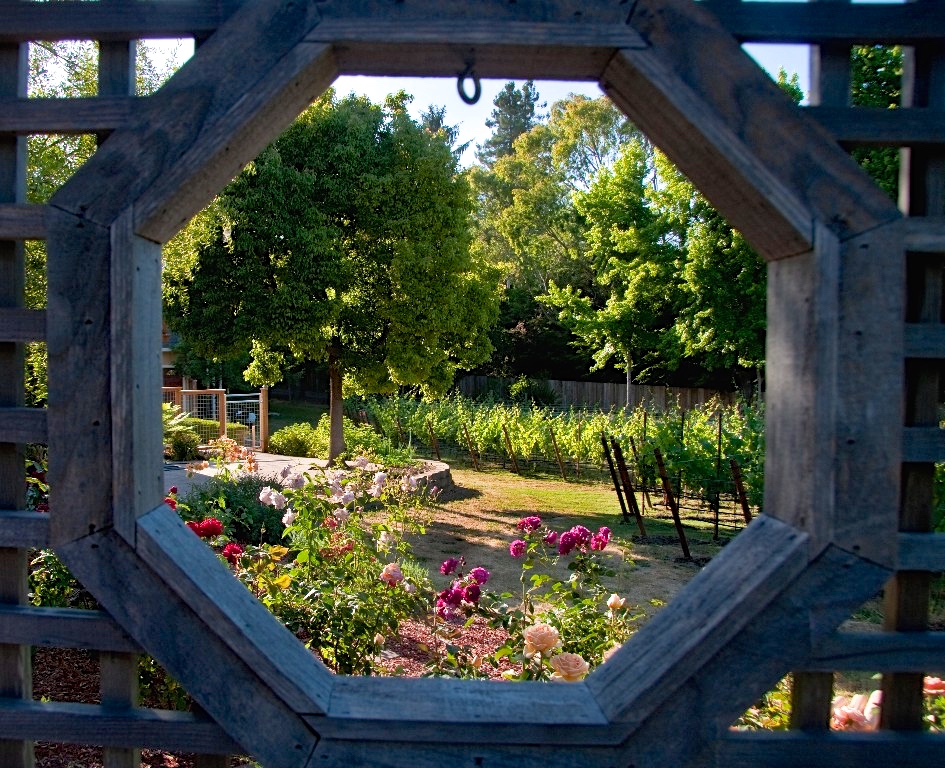 We rented a small apartment over the top of one of those type of operations in Sebastopol called Turtle Vines. The owners of the winery, Doug and Joanne Williams are exactly as I described above, totally hands on. Doug gave us a tour of his vineyard; one he works in every day, one they planted themselves a few years back. He talked about the orientation of the rows for optimal sunlight. He talked about drought problems and rodent concerns and why they chose to plant all Pinot Noir. He also pointed out the 20 vines the nursery had sent on the original order of Pinot Noir vines that turned out to be Merlot by mistake; he kept them. We sat on our rented deck overlooking the vineyard and tried the two vintages he had in bottle so far; absolutely loved the juice and the conversation, so fun!

anyway ...

The winery visits could not have been more starkly different. I know both have a place in the world, both of them make beautiful wines, it's just that next time I'm in Sebastopol I promise I'll be visiting our pals Doug & Joanne.

your pal,
mt

* later in the day I offered the guy $20 to start calling it Fray Bros. instead of Fry Bros. - he did it - made me smile!