A "Tree to Table" Chestnut Dinner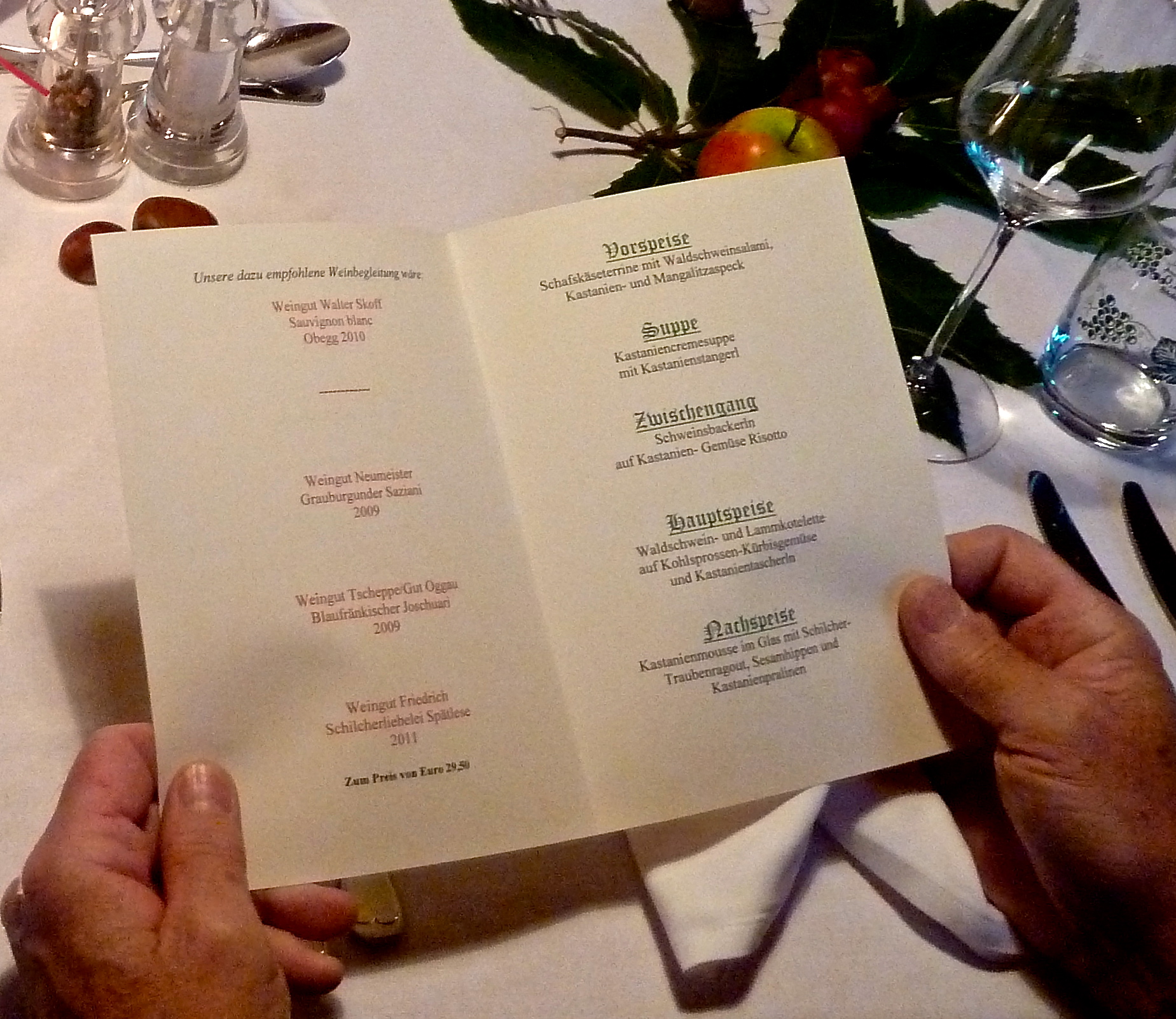 Austrian hillsides are the perfect blend of a rolling hill bowing to a mountain. Cowbells clang with a serenade that never overpowers the amazing church bells. A constant reminder of the salutation exchanged with every greeting, Grüß Gott = Good day. Austrians greet everyone in this manner. The unwritten, unspoken rule of the day is hospitality; it takes a seat next to you everywhere you go. From the local weinstube = restaurant/bar to the markt = grocery store.
A harvest chestnut party was our destination when the usually strong Austrian sunshine was caught in the fog. Our car peaked above one layer of fog where the air was full to overflowing with the smell of roasting chestnuts, somewhere between 10-15 different flavors. Who knew? Greeted by the owners, the local Austrian band and the daughter's tray of freshly harvested sweet wine, we began the chestnut tasting.
In previous years traditional Austrian dress had taken a back seat to modern. Each day of our trip I was reminded of the cultural heritage revitalized by a new generation. Check out the photo. The young man in traditional Austrian attire and the young lady chicly casual, stood side by side sharing chestnuts and taking photos. The heirloom and the newbie together again, co-existing at a traditional harvest party.
Austrian hospitality always includes an unquenchable passion for great food and drink while never compromising the camaraderie; one never rushes through dinner. Could it be these are the hidden treasures behind the bonds of friendship forged over these long evenings?
Welcome to the eastern side of Austria, close to Graz. We will head west a bit to Vienna then further west to Lake Constance. Until our next Hullabaloo, Happy tables to you!
Descriptions and translations of our evening.
Wirsthaus Jagawirt = Jagwirt's House located at the top of a rolling hill in the heart of Western Styria
Fremdenzimmer = n. guest room, spare room used for visitors
Kuche und Keller - Kuche = nf. cuisine, style of cooking; kitchen, room in the house with the stove and refrigerator. Keller = nm. cellar, basement, underground room; wine cellar.
All supported by their garden, the agriculture raised on the land behind their house, and the fruit from the land.
Check out their website at jagawirt.at & steirerstoeckl.at.