Party for the Troops - Smoked Pork for Pulling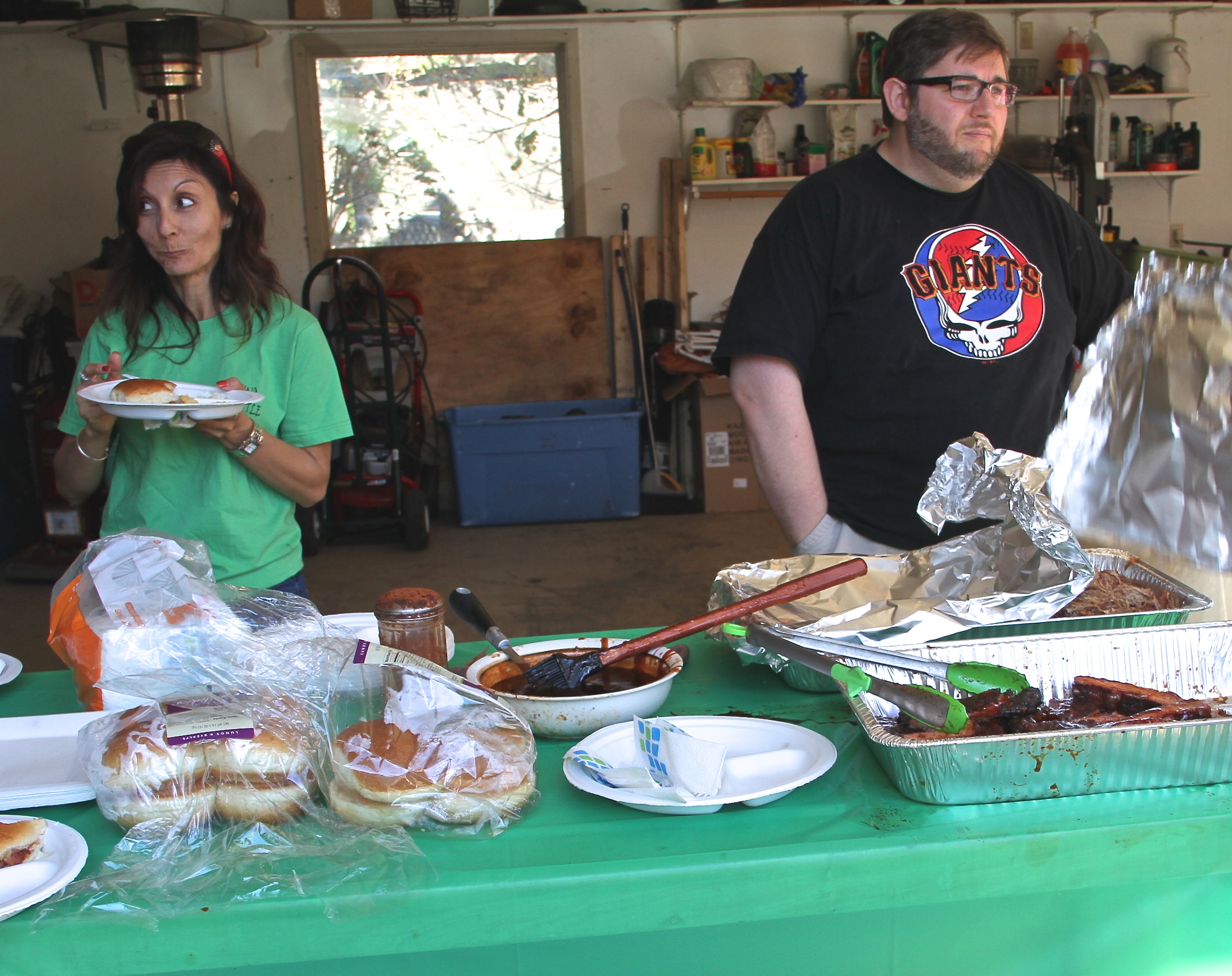 I've realized lately that being a winning BBQ competitor has created an asset for me, an asset I can use in service of society. I've cooked for the American Cancer Society, the Boys and Girls Club, a women's shelter, and various police and fire departments. I've turned my big annual summer BBQ into the "Party for the Troops". When I first started this tradition, I asked that people being things that troops overseas ask for, like candy bars, drink mixes, and local sports pages. I then packed up and shipped these things to Iraq or Afghanistan, to a locally based deployed soldier, to share with his unit.
This year the party was for the Minnesota Military Family Foundation. The Foundation provides a financial safety net that helps soften the financial hardships that may occur when a family member is deployed. The MMFF distributes money through grants and loans to Minnesota military families of deployed soldiers that need a little help, with no overhead costs. Contributing to the Minnesota Military Family Foundation is one we can show our thanks and support to our deployed troops and their families.
Over 50 people attended the fundraiser at my home this year. Everyone made a donation to the MMFF and then enjoyed the BBQ. I cooked 14 racks of ribs and 40 pounds of wings – I've already posted these recipes on The Spirited Table. I also cooked 8 pork butts, which are my favorite BBQ to eat. They are also best for a party, because you can feed so many people for a reasonable cost.
I only cook bone in pork butts, now renamed Boston Roast. One way to determine readiness is by pulling on the bone – if it comes out without a fight, your meat is ready. I still use an instant read thermometer to determine when it is done, at about 198 degrees.
A ten pound pork butt needs to cook about 10 hours at 225 degrees to be done just right, smoky and tender. Anytime you cook something that long you risk having it come out dry. We counteract this two ways – by injecting it with fluid before cooking, and by wrapping it in foil with a marinade half way through. Apple juice and brown sugar make a good injection, but you can also use a competition injection. Butcher BBQ Pork injection enhances pork flavor and helps retain moisture. You can order it over the Internet or at local BBQ specialty stores like Quetopia in Minnetonka.
Smoked Pork for Pulling
Ingredients
1 Bone in Pork Butt / Boston Roast
24 ounces apple juice + 1 cup brown sugar
- or Butcher BBQ Pork Injection
Slabs pork rub
One stick unsalted butter
Stubbs Pork marinade
Blues Hog Smoky Mountain BBQ Sauce
Instructions
Trim the "fat cap", the fat on one side of the butt that is usually about ½ to ¾ inches thick. It won't render, and the rub can't penetrate it. Trim off other thick fat, but don't worry about most of it.
Blend the apple juice and brown sugar, or the Butcher BBQ injection with 24 ounces of apple juice. Using a meat injector, pump the butt as full of the liquid as you can.
Shake rub heavily over the entire butt. Wrap in Saran wrap and return to refrigerator.
Start smoker and bring to 225 degrees. Remove the butt from the refrigerator and re-apply rub where it looks thinly coated. Add cherry and pecan wood to the burning charcoal. Put butt in smoker.
When the butt reaches an internal temperature of 160 degrees, or after 5 hours or so, double wrap it in heavy duty foil with one stick butter and one bottle of Stubb's Pork Marinade. Be careful, the bone will tend to tear through the foil. Return to smoker until an internal temperature of 198 is reached, about 5 more hours.
Place butt in full or half pan or roaster and let sit for thirty minutes. Open foil carefully and retain the juice in the pan. Wear two sets of gloves – cloth jersey gloves, with disposable restaurant service gloves over them, so you can withstand the heat inside the butt. Pull the butt apart into shreds and dunk back in the juices.
Serve Carolina style, on white bread buns with cole slaw and Blues Hog sauce over the meat. Freeze any leftovers.